Shri Jagannath Mandir - DadhiVaamana Chaturdhaa Moorti
Om Shri Narayanāya Namah
Akāla Mrityu Haranam, Sarva Vyādhi Nivāranam
Visnu Pādodakah Pivam Sirasim Dhāranām Mahim
(PadukaMantra - Brahmavidya Bhagavatchandrika by RamDas)
His holiness Baba Shri Buddhanath Das, under the instruction of his Guru, initiated and got constructed the Jagannath temple at Garoi in the year 1993. The temple is more than 100 ft in height and is encircled by a reasonably sized temple-campus. The worshipped deities are Lord Jagannath, Lord Balabhadra and Goddess Subhadra. The place Garoi is considered by the devotees as second "Shri-khsetra" and the "fifth dhaama". River Gobari has been declared as Gupta Ganga. The Lord-Jagannath culture is probably the only culture and tradition, where Brothers and Sister are together and are worshipped together. They are Lord Jagannath, Lord Balabhadra (elder brother), and Maa Subhdra (the youngest of the three and their sister).

[Shri Balabhadra, Maa Subhadra, Shri Jagannath]
Traaahi Guru, Traahi Visnu, Gati Mukti Taba Charanee
Sharana Achyuta, Achyuta Namastute
(JalaarpanaMantra -mantra to offer water; Brahmavidya Sisu Veda, PanchamaVeda - by Shri Balaraam Das)
--------------------------------------------------------------------------------
Aakhire aakhire daakineuchhi mu Mandira bhitare thai, Bhakata bhaavaku jaane Kaalia aau kehi jaani nahin,
Aakhire aakhire daakineuchhi mu Mandira bhitare thai, Sakala daakara bandhu-baandhava aau jane kehi naahin ...
Manara kathaa jane Kaalia, Bhaava die Bhaava paain ...
Samaste daakanti Bhaavagraahi boli, mana jaanipaare sehi ...
Staying from inside the temple he calls with his eyes, and he only knows the feelings of devotees,
Staying from inside the temple he calls with his eyes, he is friend of all who are calling and no one else ...
He knows the feelings in the heart, And gives feeling when he receives the same ...
All call him Bhaavagrahi(one who knows feelings of others), and he sees our hearts ...
(the background sound of this page is part of a Bhajan)
--------------------------------------------------------------------------------
The Lord Jagannath of Garoi is in a form known as Dadhi Bābana. This form is nothing but Anākāra Brahma and Anākāra Brahma is a form (in terms of "Shunya Yantra" ) of Shunya Brahma. Anakar consists of 'A', 'AA', 'EE', 'U', 'E', and 'two 0,0'.


(Anākāra)
A (pronounced like in Al.mighty) + Ā(pronounced like in Alma mater) + Ē(pronounced like in Tem.ple) + U(pronounced like in Upa.ni.shad) + E(pronounced like in En.er.gy) + O(pronounced like in Whole) + M(· in the top; pronounced in a nasal)
Along with temple of Lord Jagannath, also exists a temple of Lord Mahadev (Lord Shiva). The worshipped form is a Narmadeswar Shivling.
Shri Narmada Lingam Siddheswar Mahadev
[close view from inside of the temple]

Shri Narmada Lingam Siddheswar Mahadev
[close view from inside of the temple]
Worship of "Shiva and Shakti" forms an important part of the hindu tradition. Also present is a a temple of Tri-Shakti. Tri-Shakti means "the three powers" and combinedly refers to three Goddesses: Maha Kali, Maha Laxmi, and Maha Saraswati. Combinedly, the form is also sometimes referred to as Dakhsina Kali. Lord Shiva without Mother Shakti is Shava (corpse), hence, Lord Shiva is mostly accompanied with the Mother. The three powers also represent the cosmic energy of the three forms of the supreme God. They indeed are the female aspect of the same forms of the God and are represented by "Hleem, Kleem, Shleem".
Tri-Shakti temple at Garoi (MahaKali, MahaLaxmi, MahaSaraswati)
[outside view of the temple]
The worship of Maa Mahalaxmi (the consort of Lord Jagannath or Lord Vishnu) holds an important part. In the temple premises; there is also a temple of Maa Mahalaxmi (image shown below).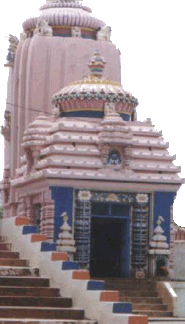 MahaLaxmi temple at Garoi
[outside view of the temple]
The car-festival (Rath yatra) is the one of the most important festivals associated with the Jagannath culture. In Shri-Khsetra (Puri) this is celebrated each year and the festival is known in many corners of the world. The Lords come out of the temple and are carried in Chariots to Gundichha temple. This is the form of "Patitapaabana" (who saves the down-trodden) who gives Darshan (allows to see) all, irrespective of anything, during this nine days. The Gundichha temple is a outing place for the Lords and is symbolic that every one requires a change in life.
At Garoi also, since few years, the Gundichha temple has been constructed approximately two kilometers away from the main Jagannath temple. The car-festival is celebrated by the devotees without much pump and glow in a simple way, following all the rituals. An image of the temple is shown below.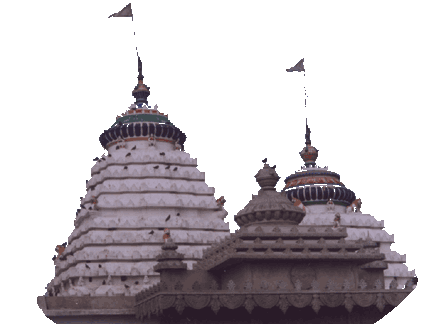 Gundichha temple at Garoi
[outside view of the temple, 2 km from the main temple]
Garoi is appropriately termed as the second "Shri-Khsetra" as it is constructed as a transit house of Lord Jagannāth. All the houses and debris have got a limited life, The Jagannāth temple's (the temple at the first or primary "Shri-Khsetra") life will be exhausted, and again after limited time will be re-constructed. Garoi will serve as the transit-house in this period of transition. The transition also includes transition of Kali Yuga to Satya Yuga. The temple has been built for the Satya Yuga. Satya, which is stepping in slowly, will have its foot established with full-might on about 22nd June 2017 . There is no overnight change anticipated in this extremely difficult Yuga Karma (duty and work of the era). Mahapurusha Shri Shri Achyutananda Goswami has hinted in his Bhabisya Malikā (an oracle about the events of the future), that this Yuga Karma game will be played in secrecy (Shunya Khela or The Game of Shunya) with a Sandhi Kāla (i.e. with a transition period) of about 12 years. Many will remain ignorant of the game, some will have some hints but cannot dig and understand further, some devotees will be able to witness the happenings with a conscious, and will secretly wait for the re-establishment of the truth. [Off note: the Yugakarma is not about destroying the civilization or mankind, as some prophecies imply; rather, its about establishing the truth, peace, compassion, forgiveness (satya, shanti, daya, khsma) firmly; its about partial cleaning with the force of the nature and divine, not about wiping off our lovely human race with a wrath, no there is no end to our race in 2012 or any other year as some prohecies were wrongly interpreted, projecting a sense of fear. Those prophecies do serve as a warning. There is no one "Doom's day", its a slow process only to make things better at the end. What is to happen is "a shift in the global conscious" a paradigm shift- the time will change, the thinking will change, the perception will change. A little force is always required to bring about this change. Keeping righteousness and taking name of God is the path of we human beings, that is the saviour.]
His holiness Baba Shri Buddhanath Das, had prayed in his last birth that his Guru shall remain always with him. Accordingly Lord Jagannath had blessed him and had said that he (Baba) will establish a temple (the said temple of Lord Jagannath) towards the end of Kaliyuga at Garoi. From here the "Kalki Avatār" will appear and Kayibalya (Mahāprasad) will be prepared and all categories of Seers will be present in this place (in physical or ethereal form) during the crucial Yugakarma. It is informative to state that, a large mass (in ancient Orissa - Udra desha) believe that Mahapurusha Shri Achyutanada had descended from Lord Jagannath. He is regarded as someone who has spiritually emerged with Lord Jagannath and has attained Godhood, and at the same time he also has his own identity. Hence he is called Mahapurusha (great man).